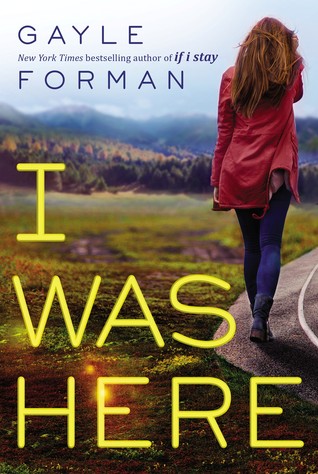 Title: I Was Here
Author: Gayle Forman
Page count: 288 pages
Released: January 27th, 2015
Genre: YA, Contemporary, Romance
Type: ARC, eBook
Rating: 
"When her best friend Meg drinks a bottle of industrial-strength cleaner alone in a motel room, Cody is understandably shocked and devastated. She and Meg shared everything—so how was there no warning? But when Cody travels to Meg's college town to pack up the belongings left behind, she discovers that there's a lot that Meg never told her. About her old roommates, the sort of people Cody never would have met in her dead-end small town in Washington. About Ben McAllister, the boy with a guitar and a sneer, who broke Meg's heart. And about an encrypted computer file that Cody can't open—until she does, and suddenly everything Cody thought she knew about her best friend's death gets thrown into question.
I Was Here is Gayle Forman at her finest, a taut, emotional, and ultimately redemptive story about redefining the meaning of family and finding a way to move forward even in the face of unspeakable loss."
I'll just admit it – this is my first Gayle Forman book. I really wasn't sure what to expect, what with her being such a high profile right now, but I'm beginning to see why. How well do we really know people? I Was Here takes a really good look at how messed up our world can be and how easy it is to lose yourself – in sadness, in friendship, and in cats.
I loved that Cody starts out as this kick-ass, definite Buffy type girl who knows what she wants and isn't afraid to be rude, but I loved even more than she could admit her wrong doings. It takes a lot to try to set things straight, but it takes even more to admit you done wrong. I loved the characters, I loved the town, and I'm probably never going to look at a motel the same way. Without spoiling anything, the one slip up that took my rating down to a 4 is a certain roadtrip that Cody took towards the end of the book – I thought it was unnecessarily irresponsible, and not something her character would do.
Regardless, I can't stop thinking about this book. I loved it! Definitely go buy it when it's released in January!